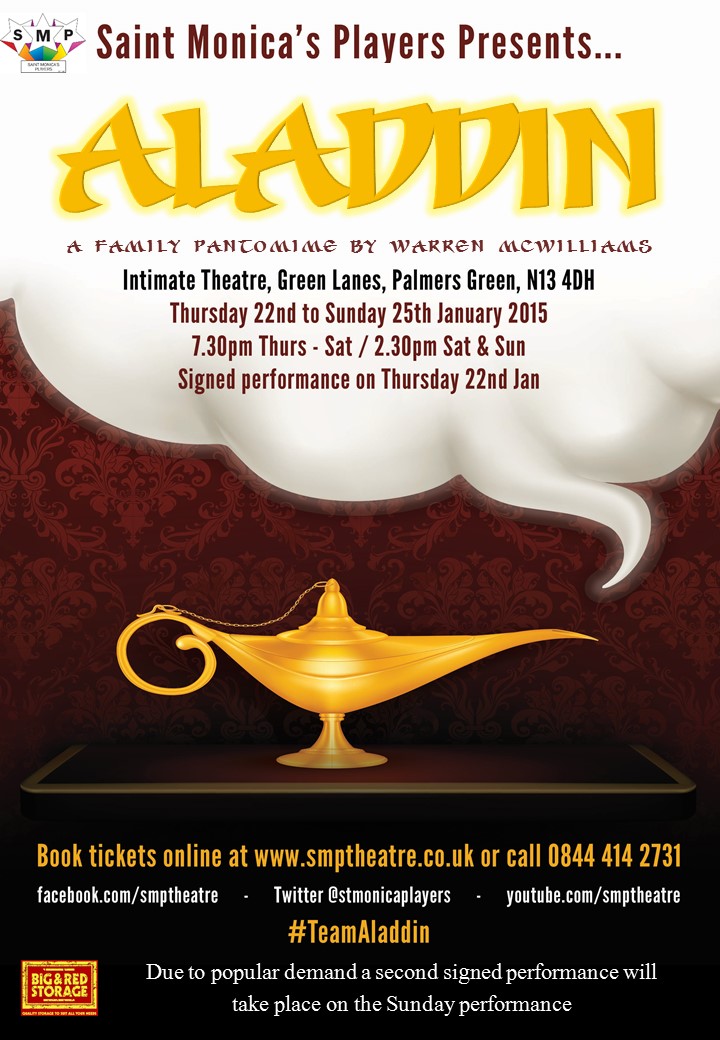 Auditions for our next show, Aladdin will be taking place at Cannon House, 6 Cannon Hill, London N14 7HG on Sunday 7th September.
Aladdin will be on at:
The Intimate Theatre, 521 Green Lanes, Palmers Green, London N13 4DH
Thursday 22nd – Sunday 25th January. Thurs – Sat 7:30pm, Sat & Sun 2:30pm.
With Signed perfomances on Thursady 22nd & Sunday 25th.
To buy tickets, please call 0844 414 2731 or email smpshows@aol.com or click here
There may be special lighting/laser/strobe lighting effects used in this pantomime
Aladdin was written by Warren McWilliams, for more info on this and any other of his pantomimes then please click here
---
SMP (Saint Monica's Players) is a north London theatre company based in Southgate/Palmers Green who have been producing musicals, pantomimes and plays for over 50 years. If you want to do amateur dramatics in Enfield, we're the best am dram group around. Visit us on Facebook, Twitter and Youtube!
Please contact us via the Saint Monica's Players group page if you have any questions.